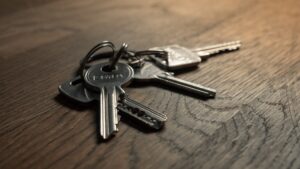 Whether we're talking about house keys, office keys, or car keys, it's important to know where they are at all times. Once in a while, you may find yourself in a situation where you lose track of them, or even lock yourself out of your property or car. This always causes us stress and frustration, especially if we're in a hurry to be somewhere.
Having a spare set of keys is always the first solution to prevent yourself from panicking if you lose or misplace your keys.
Here's the importance of having spare keys, whether they're house keys or car keys.
Always Know You Have a Backup Plan
Whether you hide your spare keys in your yard, or you have a close relative hold onto the spare set of keys, you'll always know where they are. You'll be relieved knowing that if a scenario occurs where you lock yourself out or lose your keys, you'll always have a backup plan.
Cut Back on Time Wasted
It seems like every time we lose our keys or lock yourself out somewhere, we're in a rush to be somewhere. When you have a spare set of keys, and you have access to them, you can cut back on the time wasted trying to figure out a solution to your problem.
Avoid These Types of Situations
Although we can never plan to avoid losing our keys or get locked out, we can set ourselves up to make the situation a lot less stressful. Spare keys allow you to make sure you can get back into your home or office with little time wasted. Even if you must call your close relative to come deliver you the keys, you know that you don't have to rush.
If you do find yourself in a situation where you're locked out of your home, office, or car, don't hesitate to reach out to Ability Lock & Key. Our emergency locksmith services can come to your location to solve the issue. Contact us today at 336-407-1586 for more information!