Locksmith Services
Few people on this planet have never been in a lockout situation or have never lost their keys. Anyone who claims otherwise would be hard-pressed to pass a lie detector test. Over the 20+ years of operation, we've helped countless members of our community get out of stressful situations with style and grace.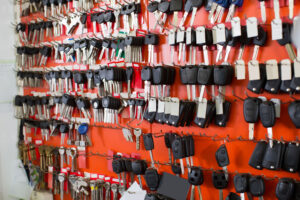 A Variety of Locksmith Services
Ability Lock & Key specializes in lightning-fast locksmithing services so our customers can move on with their lives as soon as possible. Waiting to get into your home or vehicle is a strange sort of purgatory to be put through, which is why it's important to go with a reputable service in lockout situations.
Vehicle Reentry
Locked out of your vehicle? We can help. We come to you to get you back on the road swiftly and securely.
Trunk Unlocking
We can help you unlock and get into your vehicle — or your vehicle's trunk for that matter. It doesn't matter where your keys are, we can help you get back in and get on with your life.
On-Site Key Generation Auto Re-Keys
If you lost your keys or need an auto re-key, we can provide these services and more. Best of all, we bring our expertise to you!
Smart Key Replacement
You might think that a smart key replacement has to be done by your dealership or vehicle manufacturer, but Ability Lock & Key can do this, too! It doesn't matter if you have a conventional or smart key, we will come to you and get the job done in your time of need.
Contact Ability Lock & Key for Expert Locksmith Services Today!
Few situations can make you feel as vulnerable and wanting for an immediate solution as being in a lockout situation or losing your vehicle or house keys. In those times, Ability Lock & Key is here to help. We've been family-owned and operated since 1999. We're here to put our expertise to work for you.