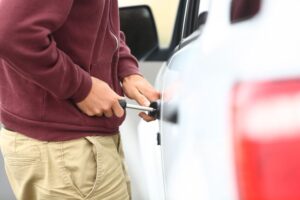 Many workers are still in the office, or they have gone back into the office from working at home during the situation the last couple of years. You may be just getting back to being used to getting up early, getting ready, and heading into the office. One of the worst things to happen at any point, but especially when you're away from home is locking your keys in your vehicle.
If you notice this happen when entering your office building, you do not need to panic. At Ability Lock & Key, our emergency locksmith services can drive to your location and unlock your car in no time.
No Need to Call Anyone or Panic to Get Home
The only number you need to dial is ours. You may get a little anxious when it occurs, but there is no need to call friends or family members to grab your spare key or come to your office to help. Our emergency automotive locksmith services will conduct:
Vehicle re-entry
Truck unlocking
On-site key generation
Auto re-keys
Smart key replacement
Depending on your car unlocking needs, we will be able to deliver our services professionally and safely, so you don't have to worry about doing anything yourself.
Why Choose a Professional Locksmith?
When you get locked out of your vehicle at work for any reason, it can be very frustrating. Sometimes, you feel as if you can get yourself out of the situation by looking up tips and tricks online or watching Youtube videos on "how to unlock your car without a key?"
These decisions are never a good idea because you can cause further issues and sometimes even damages to your vehicle if you try them out.
If you're looking for the most efficient, timely, and easiest way to get your vehicle unlocked, don't hesitate to reach out to us. Contact Ability Lock & Key at 336-407-1586 today or visit us online for more information!