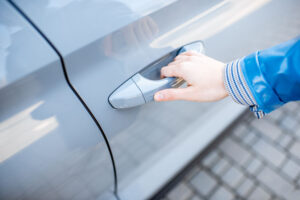 As drivers on the road, locking the keys in the car is what we fear the most. You could be rushing to work, dropping kids off at school, going to a party, etc. It's never at the right time because it always happens when we're in a rush. We hit the panic button and have no clue what to do. There is incredible news if you live in the Winston-Salem area in North Carolina. At Ability Lock & Key, we can come to your location to help you get back into your car and retrieve your keys.
Ability Lock & Key Services
It's important to not panic when you lock yourself out of your car. Wherever you are, get to a phone and give us a call. Our team will be there to open your vehicle and get you on the road in no time. Our emergency locksmith services allow us to unlock your car in a safe and efficient way. It's important to not be your own locksmith because that opens the door for errors that could cause problems with your doors, windows, or car itself.
What Happens When You Lock Your Keys in Your Car?
First, you hit the panic button. Your plans in your mind fall apart, and you immediately get flustered with the situation that is going on. You could be on your way to an important meeting at work, or you're dropping your kids off at school. No matter what the situation is, it's not a good situation to be in.
Sometimes, locking your keys in your car could've sounded the alarm on your car. You could be standing outside your car with the alarm going off, and you cannot get into your car. This is just one situation, but it can be frightening.
DO NOT PANIC
We tend to panic in situations like this, and it is totally understandable because nobody wants it to happen. When and if it does happen that you lock your keys in your automobile, don't panic. Our emergency locksmith team is just a call away. We will drive to you and unlock your car immediately, so you can continue with your day.
Contact Ability Lock & Key at 336-407-1586 today or visit us online for more information!