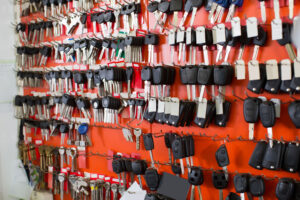 It can be very frustrating losing your car keys. Usually, you have a spare set of keys, but if you're in a situation where you can't find them, or you're far away from your home, this can turn into a nightmare situation within seconds. Having lost your keys far from your other set of keys can be frightening and stressful, especially if you're in a rush to get somewhere.
Knowing that someone is just a call away to fix the problem is a huge benefit. At Ability Lock & Key, we will be there right away with one of our experienced locksmiths to help you get back on the road in no time.
How Does it Work?
Wherever you are on the road when you lose or misplace your car keys, we will be able to come to you right away to fix the issue and get you back into your car. This is a big relief to everyone who is panicking after finding out they don't have their keys on them.
The Benefits of Having a Locksmith for Your Vehicle:
Save time with a locksmith
Get back to your daily activities/jobs
Never stress over misplacing keys
On-Site Key Generation
One of the biggest benefits of Ability Lock & Key is the fact that we can give you on-site key generation for your lost vehicle key. We also can provide you with emergency lockout services in case you've locked your keys in your car. This is very common.
No one wants to misplace their keys or lock their car keys in their car. It happens though to the best of us, and we understand this. This is why we're here to help you out when there is an emergency.
If you need an emergency locksmith service, contact Ability Lock & Key at 336-407-1586 today or visit us online for more information!